The Outrage is an unforgettable new novel by William Hussey. The guy who broke and mended our hearts with Hideous Beauty is back and he's about to do it all again with his latest release which is in our top five favourite releases of this year so far!
"You know, when you live in a time of progress, it seems that progress is the only possible way… But then the Outrage happened."
Welcome to England, where the Protectorate enforces the Public Good. Here, there are rules for everything – what to eat, what to wear, what to do, what to say, what to read, what to think, who to obey, who to hate, who to love. Your safety is assured, so long as you follow the rules.
Gabriel is a natural born rule-breaker. And his biggest crime of all? Being gay.
Gabriel knows his sexuality must be kept secret from all but his closest friends, not only to protect himself, but to protect his boyfriend. Because Eric isn't just the boy who has stolen Gabriel's heart. He's the son of the chief inspector at Degenerate Investigations ­­­- the man who poses the single biggest threat to Gabriel's life.
And the Protectorate are experts at exposing secrets.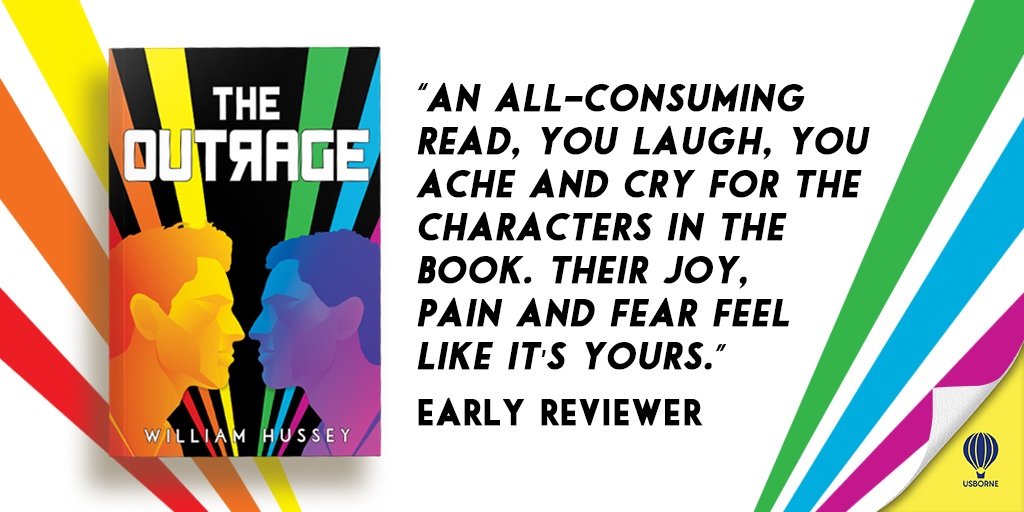 The Outrage is a powerful read. Set in a dystopian future it's not hard to imagine the world William Hussey has created being something that sadly could happen. It does contain themes and some scenes that readers may find triggering (homophobia and homophobic language, self-harm, references to suicide, and scenes of violence), so please be mindful of that when deciding to read it.
An all-consuming read, you laugh, you ache and cry for the characters in the book. Their joy, pain and fear feel like it's yours. Gabe and Eric are two characters who make you love and hate them at various times throughout the story but ultimately you want them and their friends to get their happy ending after everything they go through.
The Outrage is a book that will stand the test of time and will become a vital and important edition on school reading lists worldwide as it makes you ask questions about the world we live in and how as a society we perceive people. It's a fantastic book that I cannot recommend enough.
You can get a copy here!
About Author