2021 has been a mixed year, with highs, lows and seemingly ever-changing guidelines of what we can and can't do and where we can go. One constant and saving grace has been books. 2021 has seen the release of some fantastic books. So we thought we'd take a look back at some of our favourites.
Girl A,' she said. 'The girl who escaped. If anyone was going to make it, it was going to be you.'
Lex Gracie doesn't want to think about her family. She doesn't want to think about growing up in her parents' House of Horrors. And she doesn't want to think about her identity as Girl A: the girl who escaped. When her mother dies in prison and leaves Lex and her siblings the family home, she can't run from her past any longer. Together with her sister, Evie, Lex intends to turn the House of Horrors into a force for good. But first, she must come to terms with her six siblings – and with the childhood they shared.
Girl A is a novel we read in one entire sitting. We didn't stop until we had finished it. It's a story that radiates power. It will change you. it's heart-wrenching at times, the twist in it and the ending are heartbreaking but feel oddly right and satisfying. It's truly the most powerful and unforgettable debut novel from an author we have ever read.
You can get a copy of Girl A here.
When Summer's best friend Cee dies from cardiac arrest after both girls have taken pills, the accusations on social media begin, but as the bullying intensifies, Summer grows closer to revealing the secret both families are harbouring.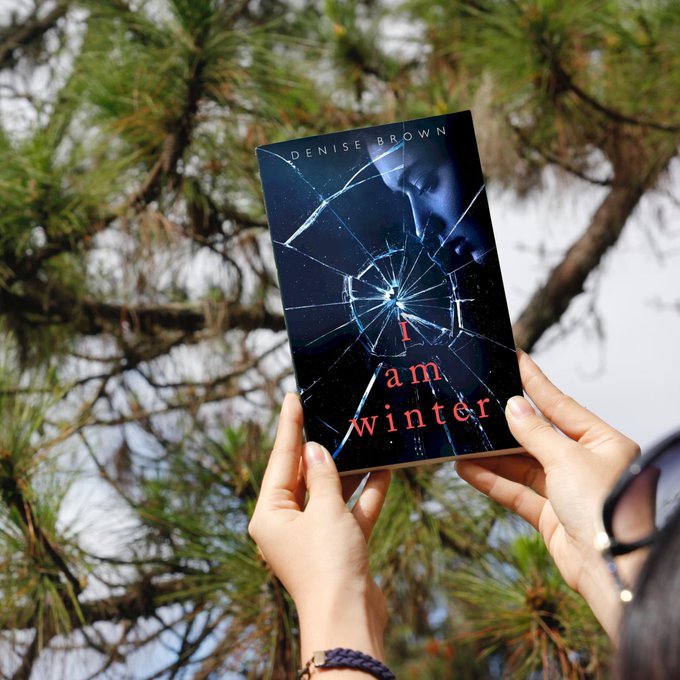 It's at times a dark read, but the mystery and the author's talent for writing intense characters who feel as if they are jumping off the page to drag you into the story, make I Am Winter one of the must-read YA's off this year.
You can get a copy here!
A 360-degree approach making sure any artist would maximise their game both mentally and technically, ensuring a confident and powerful top performance. This lead to her success as a world-renowned vocal and performance mentor. Helene Hørlyck became an elite vocal coach on The X Factor UK for numerous seasons but is mostly known for her phenomenal years as sole vocal coach to the global boyband sensation One Direction. Those years encouraged her to write this book.
Her wish with Just Sing! is to help and inspire not only all the million young aspiring singers globally but especially the young person at home feeling unconfident. Her aspiration is to shine a light on the mindfulness surrounding our individual voices and encourage how easily we can make huge positive changes in our lives by gaining some simple tools and insight into the instrument we are all born with and use each and every day, the voice.
While it's a book for singers, it's also a book for anyone who wants to build their confidence in their everyday life, be it reading out loud in class, presenting a presentation at work or even hosting a podcast or space on social media, Just Sing! will inspire and motivate you to do just that!
You can get a copy here!
The first Nought Prime Minister, Toney Durbridge, is about to go on trial for the murder of notorious ganglord, Dan Jeavons. Tobey insists he is being framed. There were ten seats at Dan's dinner party the night he was killed and each guest had their own reasons for wishing him dead.
Sephy Hadley was one of the guests that night. Haunted by the idea that she didn't do enough to stop the death of her first love, Callum McGregor, Sephy will not sit quietly and wait for accusations to fall on her now. She has her children to protect . . . It's time that actions speak louder than words. Time that the truth is uncovered. Time for the endgame.
With Endgame, we reach the powerful and moving conclusion of Sephy and Callum's story. Again Malorie broke our hearts, but she made us smile too because, in the end, Sephy and Callum's story could have ended no other way.
Any other way would have been doing both Sephy and Callum a huge injustice, and the world they inhabit has enough of that. But also shows the many different types of love you can have for people and how enduring true love can be.
Endgame is thought-provoking and very current in the subjects it discusses, like subsequent books in the series, it makes you think, it makes you feel and consider points of view you may never have before. It's a must-read. And as a series Noughts and Crosses is one that will be on peoples bookshelves for many years to come.
You can get a copy here.
"You know, when you live in a time of progress, it seems that progress is the only possible way… But then the Outrage happened."
Welcome to England, where the Protectorate enforces the Public Good. Here, there are rules for everything – what to eat, what to wear, what to do, what to say, what to read, what to think, who to obey, who to hate, who to love. Your safety is assured, so long as you follow the rules.
Gabriel is a natural-born rule-breaker. And his biggest crime of all? Being gay.
Gabriel knows his sexuality must be kept secret from all but his closest friends, not only to protect himself but to protect his boyfriend. Because Eric isn't just the boy who has stolen Gabriel's heart. He's the son of the chief inspector at Degenerate Investigations ­­­- the man who poses the single biggest threat to Gabriel's life.
And the Protectorate are experts at exposing secrets.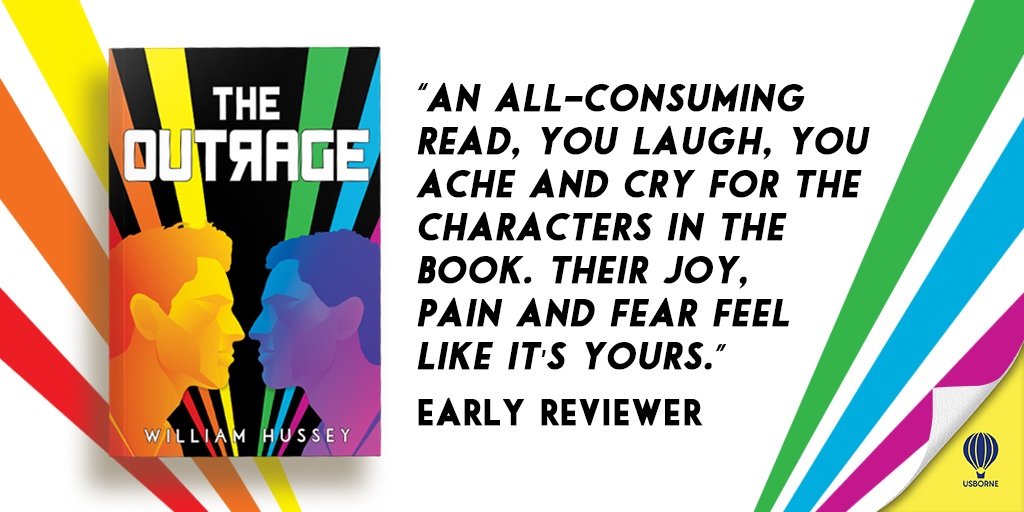 The Outrage is a powerful read. Set in a dystopian future it's not hard to imagine the world William Hussey has created being something that sadly could happen. It does contain themes and some scenes that readers may find triggering (homophobia and homophobic language, self-harm, references to suicide, and scenes of violence), so please be mindful of that when deciding to read it.
A book that will stand the test of time and will become a vital and important edition on school reading lists worldwide as it makes you ask questions about the world we live in and how as a society we perceive people. It's a fantastic book that we cannot recommend enough.
You can get a copy here!
What if you met the boy of your dreams but loving him was forbidden?
Aisha Rashid has always felt invisible, so no one is more surprised than her when Darren, the hot new boy in school, takes an interest. But Aisha is a devout Muslim and Darren is firmly off-limits. Will she follow her heart even if it means losing her own identity? If only there was a way to keep the boy and her faith. Maybe there is… all it takes is ten steps…
Ten Steps To Us is a wonderful and thought-provoking coming of age novel. Told from the point of view of Aisha who perfectly encapsulates the struggles she faces not just as a young adult trying to figure out who she is and her place in the world, but as a British Muslim. Aisha's struggles as she tries to stay true to her faith, please her family and fit in with her peers.
It's a beautiful exploration of growing up that many will be able to relate to.
You can get a copy of Ten Steps To Us, here!
When one door closes, and another plan is derailed, it's time to seek out the 'Silver Linings' and step up to the challenge.
Jess Impiazzi's journey of self-discovery, hard lessons, heart-breaking moments, self-care and openness to transformation make for a raw, authentic and inspiring story about how to follow dreams, overcome challenges and celebrate kindness in many forms.
Behind the scenes of popular reality TV shows * Surviving and thriving through betrayal and divorce with England rugby international Denny Solomona. * Living through anxiety, depression and attempted suicide. * Pursuing a career in acting and the good, the bad and the ugly of life in the limelight. * Finding happiness working as an active ambassador for the Guide Dogs for the Blind Association Jess is now a regular on the small and big screens, but the journey to where she is now, at 30 years old, has been far from straightforward.
Having been accepted into the Italia Conti drama school, Jess's acting dreams were derailed when, aged 17, her mum became blind and Jess stepped in as her primary carer. Jess now champions the rights of the visually impaired with the Guide Dogs for the Blind Association.
Jess Impiazzi's Silver Linings is a powerful, honest and inspirational read that was the perfect way to kick of 2021, and would make a great first read for 2022!
Silver Linings is out now via Hashtag Press. You can get a copy here!
One dog. Two strangers. An unfurgettable romance.
Wanted: someone nice, normal and trustworthy to housesit a beautiful cottage in the Lake District while the owner is away on a business trip. Must like dogs.
Wanting to escape from crap bosses and useless boyfriends, Becky jumps at the chance of being a dog sitter and the perfect escape – rest, relaxation and a very cute pooch called Bella.
But looking after Bella comes with a catch, namely gorgeous, brooding, Chris Hemsworth-worthy Ash James, who claims Bella is his dog and will stop at nothing to get her back!
Becky's not about to hand over lovely Bella to any Tom, Dick or Ash. She's determined to watch every move Ash James makes…even if it gets her very hot under the collar.
The book is a lovely read, we did after we'd finished it finding ourselves googling "How to Become a Dog Sitter" as it's a job we think could be rather lucrative, looking after other peoples gorgeous dogs while they are away and also looking after their house… sounds like a dream job!
If you love romance novels that are fun, quirky and make you laugh out loud then this one for you!
You can get a copy of The Dog Sitter, here.
It's been over a year since that night and Amani hopes that starting all over again will help her move on from the past. So, when she moves to a new city, Amani wants to focus on her new life, her best friends and the boy she's been crushing on but everything is falling apart and Amani finds herself looking for happiness in all the wrong places. Can Amani confront the ghosts of her pasts so she can become the girl she's always wanted to be?
Being Amani is a beautiful debut from Annabelle Steele. It does deal with sensitive issues that some may find triggering. Growing up, mental health, domestic abuse and anxiety attacks are dealt with within the story, so please bear that in mind. Annabelle has a way of writing that conveys the pure emotion a character is feeling so you feel you truly understand them. She covers topics that many shy away from when it comes to YA books. When the reality is these need to be discussed and discussed openly. The more it's shown and normalised that it's ok to include mental health in books, the more those that read it and relate to characters like Amani will realise it's ok for them to talk about it too.
It's a book that makes you laugh. cry and smile, as you watch Amani figure out who she is.
You can get a copy here!
Ruthless Women takes readers on a wild ride behind the scenes of beloved TV drama Falcon Bay, beamed globally to millions three days a week from its picturesque location in the Channel Islands. But even in this beautiful coastal spot, tensions swirl. Once one of the world's most popular soap operas, but now with ratings and syndication at an all-time low, the production has been sold to an American businesswoman, beautiful and malevolent Madeline Kane, the new network owner who arrives on the tiny island just off Jersey, determined to do whatever it takes to get the show back to number one.
Writer Farrah, star Catherine and producer Amanda are the driven, ambitious women who keep the show on the road. But Farrah is losing episodes to the network's lead male rival, Catherine is terrified of the public falling out of love with her and Amanda's evil husband Jake, vice president of the network, is plotting to get his own wife kicked off the show.
As the dawn of a new era begins, cast and crew turn against each other with loyalty, decency, and trust, replaced by scandal, betrayal, and an outrageous ambition to survive.
In a true battle of the sexes, these women will do anything to stay on top. But can they team up to bring down their male rivals? Or will jealousy, betrayal and revenge tear their long-held friendships apart?
As the story reaches a climax so shocking readers will be talking about it for decades, one thing is certain: only the most ruthless woman will survive…
Reading Ruthless Women was the perfect antidote to lockdown, who needs sex when you have Melanie Blake's Ruthless Women for company, it will keep you up all night, satisfy you and has the added advantage you don't have to put up with snoring or the awkward morning small talk.
You feel like you are on the set of Falcon Bay watching it all happen, watching the women navigate their lives, some of them grow wonderfully as the story progresses, others start off with good morals and become slightly morally corrupt all in the name of the show they live and breathe. Each woman has a journey and something you cannot help but identify with, as they fight tooth and nail with each other and the men who think they rule the entire production all the way to a jaw-dropping conclusion that you will not see coming.
Ruthless Women is a book you will not forget, it's one that will be on your bookshelf for many years and one that every time you pick up it will feel like the first time and sweep you away back into Falcon Bay.
you can get a copy here!
Diana O'Toole's life is going perfectly to plan. At twenty-nine, she's up for promotion to her dream job as an art specialist at Sotheby's and she's about to fly to the Galápagos where she's convinced her surgeon boyfriend, Finn, is going to propose.
But then the virus hits New York City and Finn breaks the news: the hospital needs him, he has to stay. But you should still go, he insists. And reluctantly, she agrees.
Once she's in the Galápagos, the world shuts down around her, leaving Diana stranded – albeit in paradise. Completely isolated, with only intermittent news from the outside world, Diana finds herself examining everything that has brought her to this point and wondering if there's a better way to live.
But not everything is as it seems . .
Given what the world has been through over the past couple of years Wish You Were Here feels extremely relatable as the thoughts and feelings the main protagonist Diana has are things many of us have likely felt, while being cut from family and friends due to the covid pandemic.
You can get a copy here!
Her advice, spot on. Her love life, way off.
Darcy Phillips:
Can give you the solution to any of your relationship woes – for a fee.
Uses her power for good. Most of the time.
Really cannot stand the new Australian jock at school, Alexander Brougham.
Has maybe not the best judgement when it comes to her best friend, Brooke…who is in love with someone else.
Does not appreciate being blackmailed.
But when Brougham catches Darcy in the act of collecting letters from locker 89 – out of which she's been running her questionably legal, anonymous relationship advice service – that's exactly what happens. In exchange for keeping her secret, Darcy begrudgingly agrees to become his personal dating coach. The goal? To help him win his ex-girlfriend back.
Darcy has good reason to keep her identity secret. If word gets out that she's behind the locker, some things she's not proud of will come to light, and there's a good chance Brooke will never speak to her again.
Okay, so all she has to do is help an entitled, bratty, (annoyingly hot) guy win over a girl who's already fallen for him once? What could possibly go wrong?
Perfect on Paper… Truly is perfect. From perfectly depicting how a private school reacts to any type of scandal ( it saves its own reputation), to dealing with many issues that the LGBTQ+ community face. It had everything. Particularly powerful and resonating was how biphobia was dealt with as that's something that's never really discussed anywhere much less in YA books when it's something that really should be.
You can get a copy here.
An enthralling journey through time, fashion and theatreland: from hairdressing student in the early 1960s to theatrical wig creator for the biggest shows of our time over five decades – from the West End to Broadway – Box Brownie to Cinemascope. My Name Is Not Wigs is the ultimate read for fans of witty behind-the-curtains memoirs, especially those with a penchant for the bright lights of stage and screen: tears and accolades aplenty!
Angela has created wigs for Spitting Image, Les Misérables, Phantom of the Opera, The Graduate, Witches of Eastwick, Jesus Christ Superstar, La Boheme and Mary Poppins to name a few; at institutions such as Madame Tussauds in London and Amsterdam, The Royal Opera House in Covent Garden and the Royal National Theatre on more than 100 shows; touring the world; and working alongside many of the biggest names in acting including Joan Collins, Judi Dench, Michael Gambon, Celia Imrie and Ian McKellen.
My Name Is Not Wigs is a fascinating autobiography from Angela Cobbins MBE, if you love theatre and knowing what goes on behind the scenes, then you need to read this book.
This book shines a light and pays homage to that glorious world.
You can get a copy here!
'I have long believed that loving a boyband brings with it a wealth of transferable skills, but I'd never imagined solving a murder would be one of them…'

Harri and her best friends worship Half Light – an internationally famous boyband. When frontman Frankie is arrested on suspicion of murdering his oldest friend Evan, Harri feels like her world's about to fall apart. But quickly she realises that she – and all the other Half Light superfans out there – know and understand much more about these boys than any detective ever could.
The Boyband Murder Mystery has perfectly captured the true heart of what being in a fandom means, and the friendships you make being in one. It will bring tears to your eyes by the time you finish it if you have been part of one as it's a love letter to any fan who's ever found a sense of belonging within a fandom.
It's a fantastic debut from Ava Eldred. Ava pays homage to that perfectly. with nods to fandom lore and tales which create the foundation of many a boyband fandom.
You can get a copy of The Boyband Murder Mystery, here!
GLASGOW, 2025. Dr Amanda Maclean is called to treat a young man with a mild fever. Within three hours he dies. The mysterious illness sweeps through the hospital with deadly speed. This is how it begins.
The victims are all men.
Dr Maclean raises the alarm, but the sickness spreads to every corner of the globe. Threatening families. Governments. Countries.
Can they find a cure before it's too late? Will this be the story of the end of the world – or its salvation?
If you had read The End of Men a few years ago you'd likely have laughed at the absurdity of the premise. Something like that could never happen. Now in 2021, this book hits differently. It's eerily relevant and hits a mark you didn't even know needed hitting.
You can get a copy here.
Tell me the story of how you two met…
Laura has built a career out of interviewing people about their epic real-life love stories.
When she picks up the wrong suitcase at the airport, Laura wonders if this could be the start of something that's written in the stars.
From piano sheet music to a battered copy of her favourite book, Laura finds in the bag evidence of everything she could hope for in a partner.
If Laura's job has taught her anything it's that when it comes to love, you can't let an opportunity pass you by. Now Laura is determined to track down the owner of the suitcase, and her own happy ending.
But what if fate has other ideas?
Just Haven't Met You Yet is a gorgeous novel by Sophie Cousens, that will leave you smiling and your heart so full of love and joy.
You can get a copy here!
I am Kaelyn, and once I was destined to become the ruler of the Kingdom of Geniverd. Instead, I chose to become a Min, and join those fighting against the same oppressive system which raised me – taking a stand against injustice alongside my love, Roki. Together, we're navigating a conspiracy that spans both the mortal universe and the spirit realm of Shiol – and the stakes in this sinister game of shadows have never been higher.
For soon, a new Crown of Crowns will be elected. As the ruler of the spirit realm, and the highest authority in the galaxy, the Crown of Crowns will have the power to tip the balance in favour of either order or chaos – and the lives of billions could be impacted as a result.
Likewise, in Geniverd, a miraculous new biotechnology has promised to revolutionize society – supposedly granting health, strength, and the potential of immortality to the masses. However, the promise of this genetic engineering has blinded many to the dark secrets and hidden agendas that drove its development in the first place.
I surrendered my mortality so I could take a stand for what's right – but as those, I trust betray me, and I find myself manipulated by shadowy figures from my past, doing what's 'right' has become harder and harder to figure out. When those I care about the most become unwitting pawns in this conflict, I'm forced to commit to unthinkable choices – and, as a result, my hands could soon be awash with the blood of billions.
Godly Sins is the 2nd instalment in the Crown of Crowns series and it's a fantastic read full of adventure, intrigue and plot twists you won't see coming.
You can get a copy here!
London, 2060: Following a series of deadly pandemics, devastating environmental disasters and a violent surge in cyber-terrorism, the UN has made it compulsory for every tax-paying citizen to login to the Perspecta Universe: a totally safe, pollution-free, environmentally friendly virtual reality world.

Eighteen years later, 'The Upload' is complete, and billions of people all around the world exist in massive
dormitory complexes surrounding the major cities, all totally unconscious of the crumbling world around them. Apart from the renegades, the 'Offliners' who live in London's silent wasteland, making the disused Piccadilly Circus Tube station their home: a fully self-sufficient, subterranean community. When Josh 'Kid' Jones, a young Offliner, discovers that an antiquated piece of technology called an 'iPhone left to him by
his father seems able to communicate with the past through social media. He strikes up a friendship with Isabel Parry, a 16-year-old living in 2021, and the two begin communicating through time and space via Instagram. But what Kid and Izzy don't realise is that by doing so they are not only changing their own fate, but also the fate of the rest of the world…
KID is an absolutely stunning debut from Sebastian de Souza. It's 600+ pages of pure and utter brilliance. You might be thinking 600 pages is a lot but with this book, it really isn't. It draws you in from the first page and sucks you into the Offliner world so when you reach the end, you want more and aren't quite ready to leave it all behind. It has scarily accurate realism and it makes it a thought-provoking read.
KID : A History of the Future is available now from: Bookshop.org | Waterstones | Hive | Amazon
Eighteen-year-olds Ruben Montez and Zach Knight are two members of the boy-band Saturday, one of the biggest acts in America. Along with their bandmates, Angel Phan and Jon Braxton, the four are teen heartbreakers in front of the cameras and best friends backstage. But privately, cracks are starting to form: their once-easy rapport is straining under the pressures of fame, and Ruben confides in Zach that he's feeling smothered by management's pressure to stay in the closet.
On a whirlwind tour through Europe, with both an unrelenting schedule and minimal supervision, Ruben and Zach come to rely on each other more and more, and their already close friendship evolves into a romance. But when they decide they're ready to tell their fans and live freely, Zach and Ruben start to truly realize that they will never have the support of their management. How can they hold tight to each other when the whole world seems to want to come between them?
If This Gets Out is a book you will not be able to put down once you start it. Told through the alternating viewpoints of Ruben and Zach, it's their story. It carries an extremely important message as it shines a light on the conditions that many artists within the industry face, especially those who enter the industry at a young age, those that belong to the LGBTQ+ community and otherwise marginalised artists. It shows how overworked they are, they are slowly stripped of all autonomy, their names, who they can and can't socialise with, what they wear, Every aspect of their lives is controlled and manipulated to maintain a public image, an image that is carefully crafted to appeal to an artist/bands demographic so it maximises sale potential.
If This Gets Out is one of the most powerful and necessary reads of this year and a must-read for anyone who has ever been in a love with a boyband or an artist who has suffered at the hands of an industry that must change.
You can get copies: UK/Commonwealth countries:- here. US:- here.
Harry Styles is a global superstar and fashion icon who has broken records, won awards and was the first solo man to grace the cover of Vogue, but he is also grounded, humble and down to earth. He doesn't care what other people think, isn't afraid to be vulnerable and truly loves his fans. We could all do with being a bit more like Harry.
With chapters on finding your style, building confidence and supporting charities, The Book of Harry explores Harry's incredible journey to stardom and the lessons we can take from his music, career and wider approach to life. Learning from his example, it will arm readers with tips, tricks and wisdom to empower them to be fearless, be themselves and above all, Treat People With Kindness.
The Book of Harry isn't like a typical celebrity biography, which features rumours and unsubstantiated claims. It's extremely well researched and focuses on the positive attributes that his fans love to hear about, and what people should focus on. It's an uplifting and enjoyable read that fans and people wanting to find out more about Harry Styles will learn a lot from.
You can get a copy here!
Let us know which books you have loved reading this year overs on @tbhonest_uk!