Westlife is the latest in a long list of musical talent who are giving their support and voice to #CrewNation, to help raise money to help the crew who make the tours they do possible.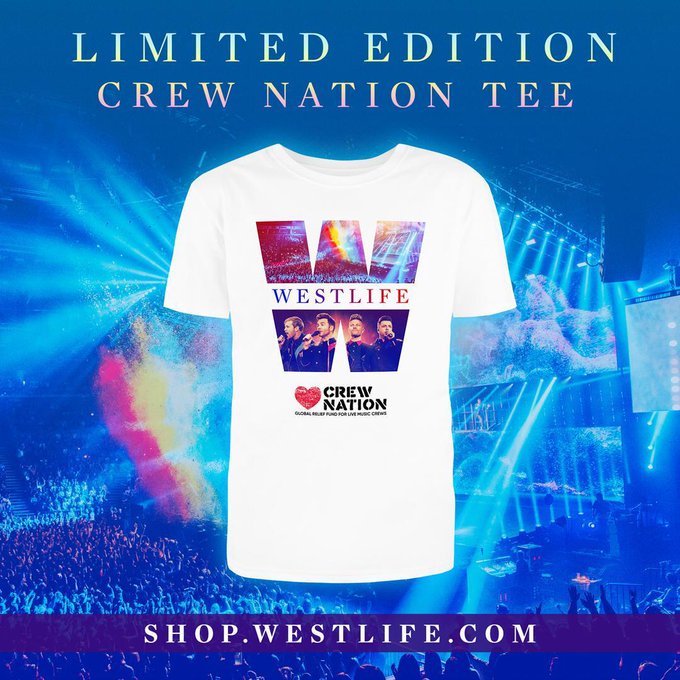 The tee was designed by Westlife band Member Mark Feehily. All proceeds from the sale will go directly to Live Nation #CrewNation fund. The promoters have committed $10 million to the fund– contributing an initial $5 million to the fund, then matching the next $5 million given by artists, fans and employees dollar for dollar. The fund global relief is to help crew out so they can back to work when we can all go out and see gigs again. Many artists including Liam Payne, Little Mix and Harry Styles have all supported the cause by either creating their own merch with all proceeds going to the cause or by donating privately.
Westlife recently made the decision to cancel their upcoming gigs due to the COVID-19 pandemic which makes their support of the #Crewnation fund even more important.
The band released their album Spectrum at the end of last year, the first since they reunited as a band, much to the delight of fans all over the world. The album was an instant hit, putting the 4 irish lads back at the top of the charts.
You can purchase the Tshirt via the bands website and found more about where the money will on Live Nations Website.
About Author