11 years ago today one of the biggest bands the world has ever seen was formed. Louis Tomlinson, Harry Styles, Liam Payne, Niall Horan, and Zayn Malik were put together by judges on the then hugely popular singing reality TV show The X Factor. They became One Direction. The band became huge. In five years they toured the world multiple times, all while finding the time to put out a new album every year. In 2015 after the departure of Zayn and the release of their fifth album, the band announced they were to go on indefinite hiatus to work on solo projects.
To celebrate 11 years of the band being formed we thought we'd take a look a look down memory lane at some of the fun and sometimes weird merchandise for One Direction that fans have been able to buy over the years.
Dolls
Who remembers the 1D dolls? Harry, Louis, Liam, Niall, and Zayn each had their own dolls. Some of them even sang.
Official books
Over the five years before the hiatus, the band released a fair few books as merchandise. The most memorable had to be the final book they released when Louis wrote "Who We Aren't" and "Who We Could Be" instead of typical autographs, on the inside of the book cover.
Fragrance
Over the course of their time together the band released 4 different fragrances.
Our moment
You & I
Between Us
That Moment
Musical toothbrush
This was a genius piece of merchandise, what more incentive could you need to brush your teeth than a musical One Direction toothbrush.
This is One Direction (the game)
"Will you be the first to complete your game card and get backstage?"
One Direction Monopoly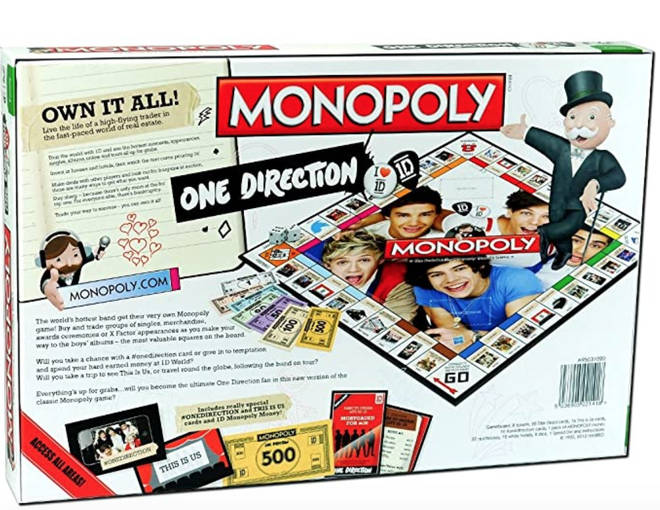 Not content with monopolizing the world, in 2014 the band released a version of the hugely popular game.
One Direction Twister
Join in the fun with Niall, Zayn, Harry, Liam and Louis in the game that ties you up in knots. One way or another, twist and turn your way to be the last player standing in this classic game of fun and balance.
One Direction Top Trumps
From humble beginnings on the X Factor to the world's biggest pop band, One Direction now have their own pack of Top Trumps – safe to say they've REALLY arrived! This pack takes you through the journey of Niall, Zayn, Liam, Louis, and Harry from their formation to the multi-award-winning boy band that they are today, with facts, stats, and photos of all their greatest moments.
Electric scooter
Features kickstand, button switch to start, and rear brake. 6-8 hour charging time, 10-15km range, top speed of 12km/h. Easy-grip handles. There was even a matching helmet. The lads always had fans safety in mind.
Car
The band designed their own honda civic as part of a partnership with the car brand.
Lipstick
Each member had their own lipstick. Niall's was called "Moments", Zayn's " I Wish", Harry's "Be Mine", Liams "I Want" and Louis, "Rock Me."
What's your favorite 1D merchandise memory? Let us know on @tbhonest_uk!
About Author