Today is the day Louis Tomlinson's Louies have nicknamed 'Loudependance Day'. It marks the one-year anniversary of a career-changing tweet from Louis.
On 11 July 2020, Louis tweeted his now-iconic tweet, announcing he had parted ways with Syco Music, his musical home for the past ten years.
To celebrate the first Loudependance Day we thought we'd take a look at Louis's journey to becoming an independent artist and the support his Louies have given him, every step of the way on that journey.
2008
Louis's journey to Loudependance began in 2008 at just 16 years old when he created a Youtube account louistomlinson07. He began to upload covers to the channel, including Crawl by Chris Brown, Because of You by Ne-Yo, and the now-iconic Look After you by The Fray, which his Louies found and have now managed to rack up over 2 million views on.
2010
His next stage to Loudependance was without a doubt one of the most significant and life-changing experiences of his life.
At 18, Louis auditioned for the hugely popular UK singing reality TV show The X factor. It was his second time auditioning for the Simon Cowell-created show.
He previously auditioned but didn't make it past the first stage. Showing the steely determination that his fans would come to love, he went away, got singing lessons to improve his voice. Determined to prove himself, auditioned again. It paid off. He made it through to singing in front of the esteemed panel of judges, including Simon Cowell.
Having gotten as far as the Bootcamp stage, where he knew he didn't have the strongest voice in the competition and practiced tirelessly again with the fierce determination that had made him audition again, he was eliminated. He was offered a lifeline a long with four other lads.
Louis Tomlinson, Harry Styles, Liam Payne, Zayn Malik, and Niall Horan would become One Direction. The band progressed through the competition, coming in third place.
Throughout the entire live part the show, Louis was not given a solo, he carried the harmonies. At one point in the show when they thought Louis may miss the performance due to an injury to his foot, bandmate Harry commented that the vocals sounded "wrong" and "not think enough" without Louis. While he may have not been the lead vocalist, his voice was and went on to become perhaps the most important weapon within One Direction's arsenal.
One Direction signed to Simon Cowell's label Syco after the show, Simon had seen the bands rising popularity and the demand for them, the money signs flickered in his eyes. They began a relentless five-year marathon. An album a year, world tours, endless promotion, and a movie all while traveling the world.
2011-2013
Social media played a huge part in the growth of the band, allowing those in countries where the X-Factor did not air, to share in the band's journey to global success.
For two years Louis and his 1D bandmates took the world by storm gaining fans as they toured the world and released their first two chart-topping albums Up All Night and Take Me Home.
Louis quickly became a fan favourite, with his down to earth nature, his love for his family and his absolute unwavering loyalty to his home town of Doncaster, despite him admitting he felt like for the first couple of years he was just the one at the back, in the band and is credited as a writer on numerous tracks on both albums including:
Everything About You
Same Mistakes
Taken
Back For You
Last First Kiss
Irresistible
Still The One
Summer Love.
2013
Midnight Memories the band's third album marked another turning point in Louis's journey towards Loudependance. It was when the band began to take control of their sound, with Louis being insistent behind the scenes that the band had more influence over the tracks being written for them. He began to show how his skill and prowess as a lyricist. Louis was credited as a writer on many of the songs on the album including :
Alive
Better Than Words
Diana
Does He Know?
Little Black Dress
Little White Lies
Midnight Memories
Right Now
Story of My Life
Strong
Through the Dark
Why Don't We Go There
2014
The band released their fourth studio album aptly titled Four, which again saw Louis firmly establish himself as one of the band's primary songwriters, making quite the writing duo with bandmate Liam Payne. Including the absolute fan favourite track, No Control. A track that would see Louies and fans of the band create Project No Control in 2015 to show support to Louis and the band and campaign for it to become a single. No Control went on to win a TCA – without ever being an official single!
Change Your Ticket
Clouds
Fireproof
Fool's Gold
No Control
Night Changes
Ready to Run
Spaces
Steal My Girl
2015
A year of change for 1D with Zayn's departure, the band announcing their indefinite hiatus and the release of the 'Made in the AM', the fifth and final album of this particular chapter in the band's history.
Louis co-wrote a song with Liam and Jamie Scott called Home, again a song which his and the band's fans took into their heart and created Project Home.
Liam said, of Louis while writing Home," Having seen different things he's gone through and different stuff this year – and obviously, I've written a lot of songs with him – he can really get into that sensitive mindset to write songs, which is pretty cool."
By this point, Louis had notched up an impressive 37 co-writing credits. Firmly becoming one of the band's top lyricists showing that everyone in the band had something unique they add, despite media attention constantly only ever being given to the designated leader of a band which is something sadly the media do with all bands.
Some of the songs he co-wrote for the band became fan anthems, even now fans still comment on how songs like Home, Strong, and Through The Dark, mean so much to them and have them personally through tough times within their own lives, have become a huge part of his journey to Loudependance and him being taken seriously as an artist.
Made in the AM also saw Louis co-write:
A.M.
End of the Day
History
Long Way Down
Love You Goodbye
Perfect
What a Feeling
2016- 2020
This period is perhaps the most tumultuous in Louis's journey to 'Loudependance.' He began his career as a solo artist. He remained signed to Syco Records and Epic Records as he began the next chapter in his musical journey.
Louis released a few singles, Just Hold On, a collaboration with Steve Aoki, Back to You Ft Bebe Rexha and Miss You. He also released a track just for his fans entitled Just Like You, an acknowledgement that he appreciated them, while he took some time to deal with matters in his personal life and just be with his family.
In 2019 he wrote a candid, honest, and heartfelt post to his fans which he shared on social media where he explained that he had reevaluated his career and had taken the time to figure out what type of music he wanted to make as an artist. He ultimately decided to follow his heart and not chase the charts.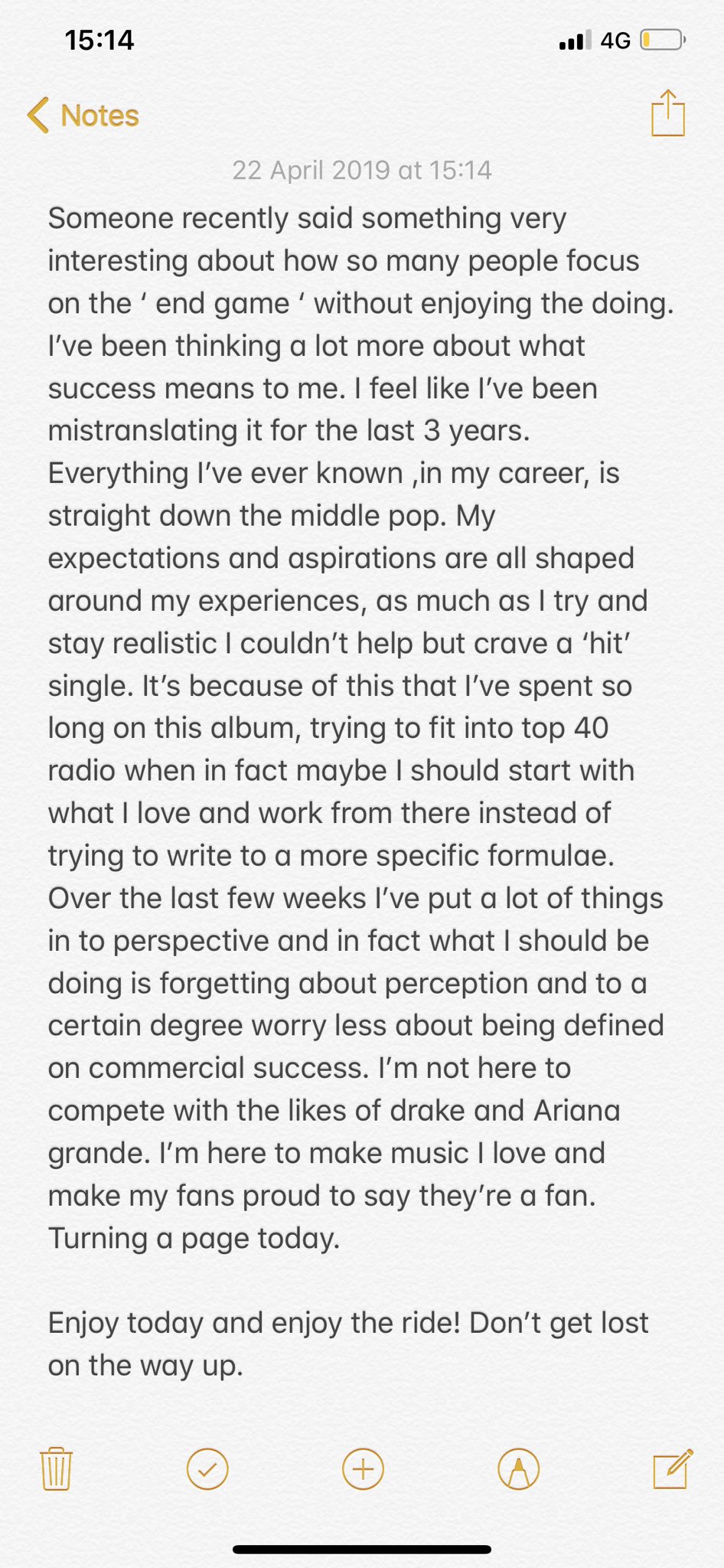 Each track Louis released showed his versatility and ability to write different styles of songs. Something many lyricists struggle with. Each encompassed his ability to take emotions and situations that everyone deals with them and make them into catchy tunes that you have to sing along to.
No matter what Louis has done professionally, from releasing music to being a judge for a season on The XFactor, they are there supporting him.
Like fellow lyricists, Louis also wrote for other artists as he began to work tirelessly on his debut album Walls.
2020
Four years in the making, 2020 saw Louis finally release his own solo album, Walls. Released through his own company 78 Productions and licensed to Sony Music through Syco Music and Arista Records.
Walls is an introduction to Louis as a lyricist for those who may dismiss his because of how he got his start within the industry. It's full of honest, relatable and emotive lyrics, packaged into catchy tracks that tell his story but are vague enough the listener can relate them to what is going in their own lives. For fans, this is the Louis they've known, adored and championed for many years.
What makes Louis a formidable lyricist and one that people should pay more attention to is how humble he is. Speaking during promotion for Walls he talked about how he believes he is just getting started as a lyricist and still has much to learn. How he finds it hard to comprehend that he is capable of writing tracks that can help others in their time of need.
Louis's journey to 'Loudepndance' is one which has shown his incredible work effort work ethic and his lack of self-belief in his own skills and how he downplays the compliments people pay his songs, combined with his penchant for writing what he feels and creating tracks that convey so much emotion with his unique vocal tones. Conveying so much to the listener, that they are transported to their own story when they listen to his songs. are all marks of an incredibly gifted and talented lyricist.
The album did exceptionally well in the charts. (UK Official Chart at No.4, the US Billboard Chart at No.9, and the Australia ARIA chart at No.6). And nine months after its release his dedicated, loyal, and extremely passionate fanbase who have an extremely unique and warm, and giving relationship with the singer, got the album to the top of the charts once again.
From the crazy tracklist reveal where we all sat glued to the live stream literally watching paint dry for eight hours as artist Jay Kaes created a stunning mural, to the fan hot spots hidden in some mind-boggling locations. The Walls era was a truly special and profound moment in Louis's journey.
From the album, Louis released five singles. Kill My Mind, Two of Us, Don't Let It Break Your Heart, We Made It and Walls.
Kill My Mind
The first taste of what to expect from the album came with Louis's "statement of intent" Kill My Mind, a song that was born to be performed live. It was also the first part of what would become an epic and completely unforgettable video trilogy.
Two Of Us
Two Of Us is that track that will never not move you and make you feel emotion when you listen to it. It's raw, it's vulnerable. It's uplifting and relatable for any listener because it encompasses everything you feel when you lose a loved one.
Louis filmed two videos for the track. One where he helped a man named Richard Green complete his bucket list and raised money for some very worthy charities.
The second was simply just Louis singing the track and playing the piano. And was utterly beautiful. Both videos complemented the track perfectly.
We Made It
We Made It is somewhat of an anthem, a song that connects both Louis and his fans as, as a team they made it, they got to the point where Louis released his solo album.
It's a song that has multiple meanings and will mean something different for everyone that listens. It also formed the final part of Louis's video trilogy.
If one song summed up Louis's 'Loudependance Day' journey with his fans to becoming an independent artist and making the music he wants to make then it would surely be this one.
Don't Let It Break Your Heart
Don't Let It Break Your Heart follows Louis trend for writing heartfelt tracks that while being full of truth also uplift the listener and urges them to find the positive in any situation life throws at them. It also formed the next part of his video trilogy.
Walls
Walls is the title track of the album and one which speaks a lot about Louis, his time in the industry, from being in a band to his entire journey to 'Loudependance' as an independent artist.
The video summed up the entire theme of the album. The video was shot in the Moroccan desert and is not part of the short film as with KMM, WMI, and DLIBYH. but focuses purely on Louis and his creative rebirth.
The track is a beautiful biographical piece.
For four of his video releases, Louis teamed up with Charlie Lightening. They created a trilogy of videos with an interlinking story.
All this cumulated in the release of We Made It: The Directors Cut, a 15-minute movie that fully told the narrative that had played out over the four videos and included previously unseen footage. It was nothing short of a masterpiece and was arguably one of the best videos but most underrated videos to be released in 2020 by any artist.
Written by Charlie Lightening and Conor Patrick Walsh, the three music videos ( KMM, DLIBYH and WMI) were switched around from their original release order to create a strong and powerful narrative.
"It was amazing to be approached by Louis to visualise a story over three promos. I think it's quite rare to be able to work on something like this, and I was really eager to make this happen.

On meeting Louis we really got on so I knew it would be a great project to work on. Visually we wanted this to be as cinematic as possible and thought about the colour pallet. As 'Kill My Mind' was the first, the red look was really important to set the tone.

As we shot the 3 promos over 3 months it meant the story could grow and move organically, so we could see the fans reactions from each and tweak each narrative as we went from promo to promo. I'm really pleased with how they all came out, and it was so great working with Geoff Bell, a real gentleman and professional, he brought a lot to the table. As did Joe and Miki our leads, it was a great project to work on and see develop as we moved forward."

Charlie Lightening, Writer and Director of We Made It: The Directors Cut.
Common People Productions who had previously worked with Charlie, on projects with Liam Gallagher including his biographical film 'As it Was, was commissioned by Mike O'Keefe, VP creative, Sony Music Entertainment. And Alice Frost, Marketing Director of the now-defunct Syco Music.
To further promote Walls, Louis had a huge world tour planned, which sadly has been rescheduled due to the covid 19 pandemic, making it unsafe and impossible to tour.
He also announced he'd parted ways with Syco Music, a move that delighted his fans and gained positive reactions from Louis's peers in int music industry.
Always one to look out for not only his fans and help others, Louis in December 2020 decided to team up with online streaming platform Veeps for a record-breaking live event, Louis Tomlinson: Live From London which gave his fans all over the world the chance to see him perform Walls live as he put on an entire gig. This gig was the first sign the world was given of the next stage in his Loudependance journey. As it was all organized without the backing of any major label backing.
Directed once again by Charlie Lightening. The profits from the Livestream and limited edition merchandise supported Louis's own tour crew and three other charities, Crew Nation, Stagehand, and Bluebell Wood. It became the biggest live stream of the year by any male solo artist, selling over 160k tickets globally.
2021
Ending 2020 on a high, 2021 would become another huge and exciting year on his Loudependance journey.
"I'm very excited to start the next part of my journey with BMG."

Louis Tomlinson via press release from Simon Jones PR.
Louis announced months after leaving Syco the next chapter in his 'Loudependance' journey that he had partnered with BMG in a global partnership that will see him release his eagerly anticipated second album as an independent artist.
This sees Louis go full circle. He's a solo artist taking control of his career and making the music he wants to.
For fans who have supported him unconditionally on the 11th of July, 'Loudependance Day 'will always be a celebration of Louis, his music, and the unique relationship they share.
'Loudependance' is a day to remember everything he's achieved so far and to celebrate all that is to come for Louis in 2022, his highly anticipated and sold-out world tour, his second album, and a documentary.
One thing for sure his fans will be with him every step of the way no matter what the future holds!
About Author