What Makes Us Stronger is Freya Lewis's first book and it's her story. It's an inspirational tale of friendship, love, loss and courage.
Freya Lewis was just three metres away from the terrorist who detonated the bomb at the Manchester Arena on the night of 22nd May 2017.
Her best friend Nell was tragically killed, but Freya – thrown forwards by the blast – somehow survived. She suffered 29 separate injuries, was in a coma for five days, and wheelchair-bound for three months.
Yet just 12 months later, she was on her feet, running the Junior Great Manchester Run and raising £60,000 for the hospital that saved her. From her darkest moment, she found the determination to live life to the fullest, for herself, and for those who lost their lives.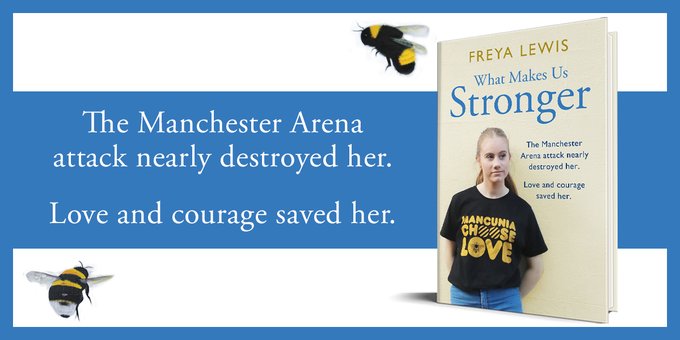 What Makes Us Stronger which was written by Freya with the help of journalist and ghostwriter Amisha Desai it's a courageous and uplifting read, that will have you laughing out loud on one page and crying the next. It's a thank you to all those who helped Freya after the attack, and it's a tribute to her best friend Nell who sadly lost her life in the attack. It recounts the bond and love they shared, how much fun they had together. It's a story of resilience and determination and one that many of us could learn a lot from.
Not only has Freya raised over £60,000 for Manchester Children's hospital, the hospital which saved her life by taking part in the Junior Manchester Run, but she also became ambassador to the high sheriff   Dr. Robina Shah who is a psychologist and a senior lecturer at the University of Manchester, Freya became Ambassador tp The High Sheriff of  Manchester in a ceremony at the University's Whitworth Hall. The Office of High Sheriff is a Royal appointment that dates back to Saxon times.  It was a year-long role which saw Freya help Dr Shah support charities that work with young people and other vulnerable members of the community.  she was also the Amplifon Brave Briton Young Hero Winner in 2018.
https://www.instagram.com/p/BpDFPcHBqSC/
She's also won an NHS Heroes Award for her fundraising which was presented to her by Louis Tomlinson , who she's a big fan.
Freya is also an equally big fan of Louis's One Direction bandmate Harry Styles, who grew up in Holmes Chapel like Freya. The Adore You singer called Freya while she was still recovering in the hospital and later he invited to meet him at a TV show he was taping at Media City in Salford.
In a recent interview with Damian Whitworth for The Times to promote What Makes Us Stronger, Freya spoke about Louis and how his song Two of Us and how it summed up how she felt about Nell and living her life to the fullest.
"There's a song by Louis Tomlinson from One Direction called Two of Us. It really spoke to me because the whole song is about living life for the two of us. And that is how I feel about Nell," Freya says. "I feel like she's with me now. Everywhere I go and everything I do, she's there beside me. I'll just continue taking her everywhere I go with me in life."

Freya Lewis talking toDamian Whitworth for The Times in fenruary 2020
What Makes Us Stronger is one of the most defiant, courageous and uplifting reads from a young woman who the world could learn so much from. Rather than allow what happened and the tragic loss of her friend to consume her, she's chosen to live life to the fullest and not let hate win.
The book is out now via Seven Dials Books an imprint of Orion Books. You can get your copy here.