Tanologist founder and Beauty influencer Lottie Tomlinson has become an ambassador for Sue Ryder, a charity which supports people during the most difficult times of their lives.
At her first official appearance as an ambassador Lottie unveiled a new mural, commissioned by the charity which encourages people not to grieve alone.
The mural which has been designed and painted by the Graffiti Kings, is located in Aldgate, London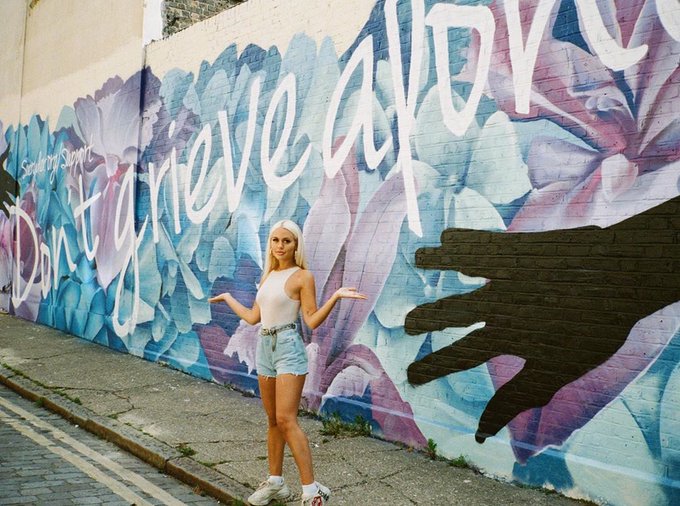 It shows two hands reaching towards each other surrounded by hydrangeas. The flowers, known to survive most climates and weathers are representative of what can often be a difficult journey through grief.
Since sadly losing her mum, Johannah, in 2016 and her sister, Félicité, in early 2019, Lottie has supported Sue Ryder and its work helping those affected by grief.
Through her own experience of bereavement, Lottie is passionate about working with the charity by sharing her story and helping to build awareness of the services and resources they offer to help others going through similar experiences.
Earlier this year Lottie also teamed up with Grief Network and Sister magazine to encourage people to talk about their feelings and be more open in expressing their feelings of grief and not keep it all inside.
Talking about her new as ambassador Lottie said: "I want to try and help people because grief can be such a scary thing. You need to keep talking about it otherwise you get lost in your feelings and that can send you into a really dark place. I can't imagine how hard it's been for people grieving during the lockdown and that's why I really want to spread the word about Sue Ryder's free video counselling. It is so important to keep people talking about their grief so they don't spiral."
You can find out more about Sue Ryder and the betterment support they offer, here.
About Author