Louis Tomlinson has dropped limited edition merch for his "The Away From Home" Festival which takes on 30 August at Crystal Palace Bowl, London.
The new merch is exclusively available online. there are two T-Shirts available, a hoodie and a sweatshirt. Prices for the exciting new merch drop range from between £25-£50.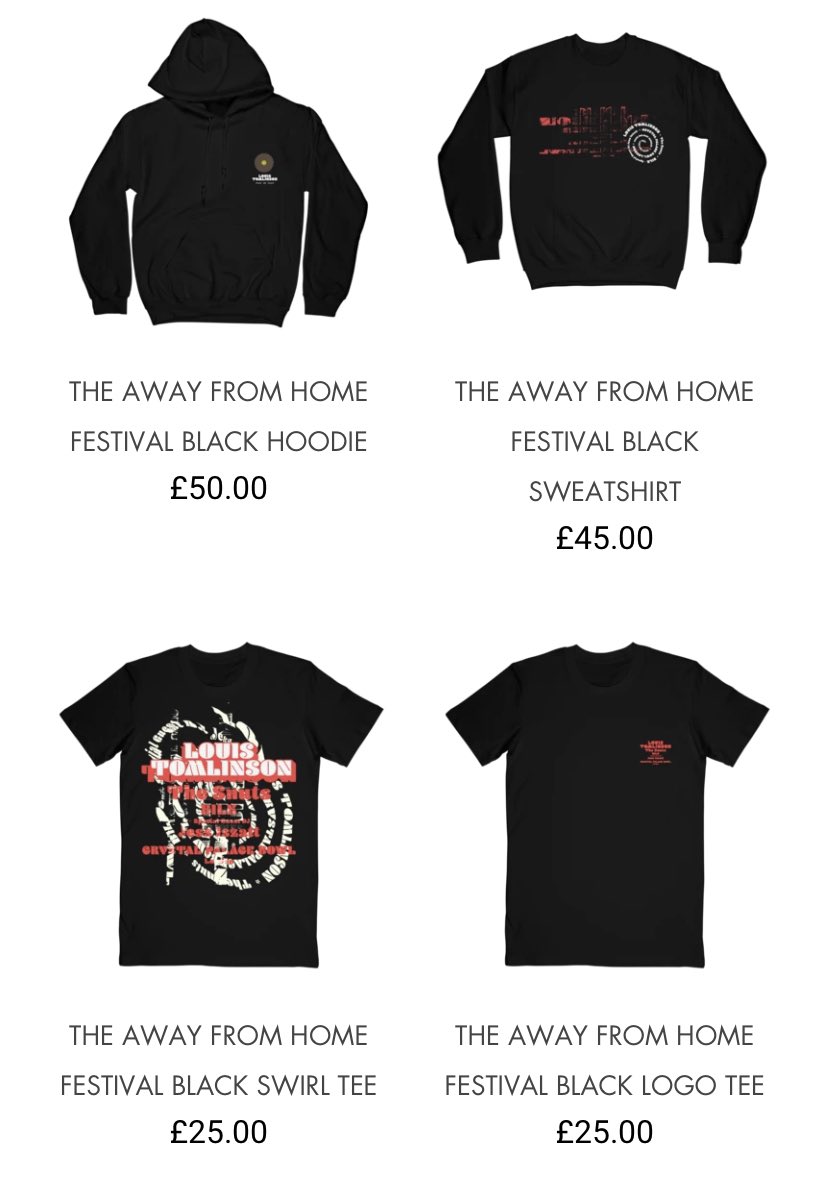 Entirely conceived and curated by Louis himself, the one-day festival that will host 8,500 fans and will be held at the Crystal Palace Bowl, an iconic South London venue with over 60 years of live music heritage and a legacy as an outdoor performance venue stretching back over a century.
Louis will headline the event with a special live set, with a lineup that also includes Scottish band The Snuts who recently hit No.1 on the Official Album Charts, Essex indie punk newcomers Bilk, and DJ sets from Radio1's Jess Izatt.
The festival is being held in celebration of the return of live music this summer following a year and a half of Covid 19 restrictions. As his own World Tour is completely sold out, Louis wanted to make tickets for this event completely free so fans don't have to spend any more money to enjoy live music this summer.
By putting out limited edition festival merch which is only available online, Louis is also ensuring fans who are not able to attend the festival still feel as involved and included as possible. He will be doing a global streaming event of the festival as well so fans can watch it.
Directed by Charlie Lightening, and featuring unprecedented access, a fly-on-the-wall short film showing Louis and his team as they plan, and prepare for this momentous event. From early planning, through to the day of the show, and including unparalleled behind the scenes footage, follow Louis on the journey to The Away From Home Festival.
Then watch as Louis and his band take to the stage performing a full headline set from London's famous Crystal Palace Bowl, their first show in front of a live audience for 18 months. As the show ends, follow backstage as Louis, his band, crew and team celebrate a return to live music. The Event includes: Making the Festival + Post Show Backstage Access – Mini-Documentary (30mins) Full Louis Tomlinson Concert (70mins)
It will stream from 4th September.
You can shop the "The Away From Home" Festival merch, here!
About Author